Brad Brose's "Cat-A-Strophe" album is setting the tone for a new world of possibilities for the XXI century Gypsy Jazz genre. Original compositions blend in La Pompe like no other.
In this greatly humorous interview Brad talks about the masters and the fundamentals, the old and the new. Try not to smile reading along these lines, if you can. I dare you! 🙂
  
1 – What have inspired you to start playing music? Who where your biggest influences and teachers?
I've been playing music since I was in high school but never took it serious. It wasn't until I first listened to Django that I really wanted to take guitar seriously and learn what this diabolical instrument is all about.
2 – Who do you consider to be the best known and also the lesser-known teachers?
In my opinion, the best teachers of this style out there are Robin Nolan and Samy Daussat. It's a very different skill being a great teacher and being a great player. What I love about Robin and Samy is they can make anything fun and accessible. When you watch a class of Samy's and notice that everyone is laughing while at the same time learning some very important lessons, well that's just magical.
3 – Who are the musicians (inside or outside Gypsy Jazz) you study in greater depth?
In the past year, I've really been going back to the roots and listening almost entirely to Django and the old hot club recordings. There was a time when I noticed that I listened to Django only about 10% of the time with the other 90% being more modern players. That felt really bizarre to me so I started hitting the old recordings more and more and I'm constantly blown away by new things I find in them.
I've also been really into Louis Armstrong whom I try to learn as much as possible from. Aside from jazz I also listen to quite a bit of Americana music and folk music, songs with really simple melodies about old times! I guess it's not so different after all.
4 – What motivates you to never quit and always keep practicing?
Playing with other musicians and seeing how much they're practicing and then progressing always helps me to push myself to practice playing over coquette for the 967th time.
Everyone is constantly getting better so I'm just following the crowd. Kind of like when you're asked: "if all your friends jumped off a bridge, would you?" I would essentially be mid-air at the point.
5 – What were the biggest challenges you've faced in order to progress in your practice, performance and musical career?
Burn out: those little periods where you just don't feel like playing anymore. Maybe for a few days or a week I'm not really getting any fun out of playing gypsy jazz. But of course that's when maybe I'll take a short break so then when I come back to it, it's fresh and fun again.
Being around other musicians that are much better than you is also crucial. I've been rather lucky since I started learning this style in Los Angeles, which has a fairly decent gypsy jazz scene for the US.
I lived in Madrid and in the south of Sweden and both places didn't have too big of a scene. Now I live in Paris so this helps a bit with that issue 🙂
6 – Do you remember your practice process when you started playing? How much did it change through the years?
When I first started I was looking at things very systematically and I was very organized. "Ok, today I'm gonna work on this 2-5-1 progression over this tune and then try working with the metronome".
Now, I'm more focused on learning new songs and absorbing more of the repertoire. To me, this is a better and more pleasurable way to go about learning the style at this point.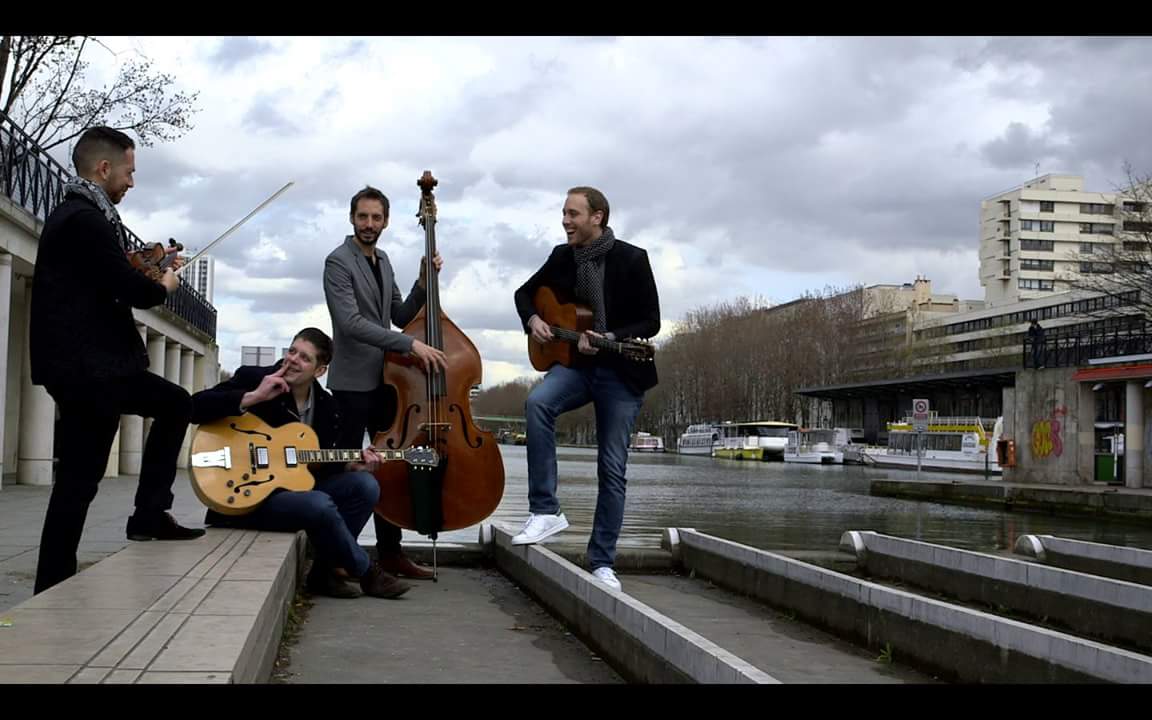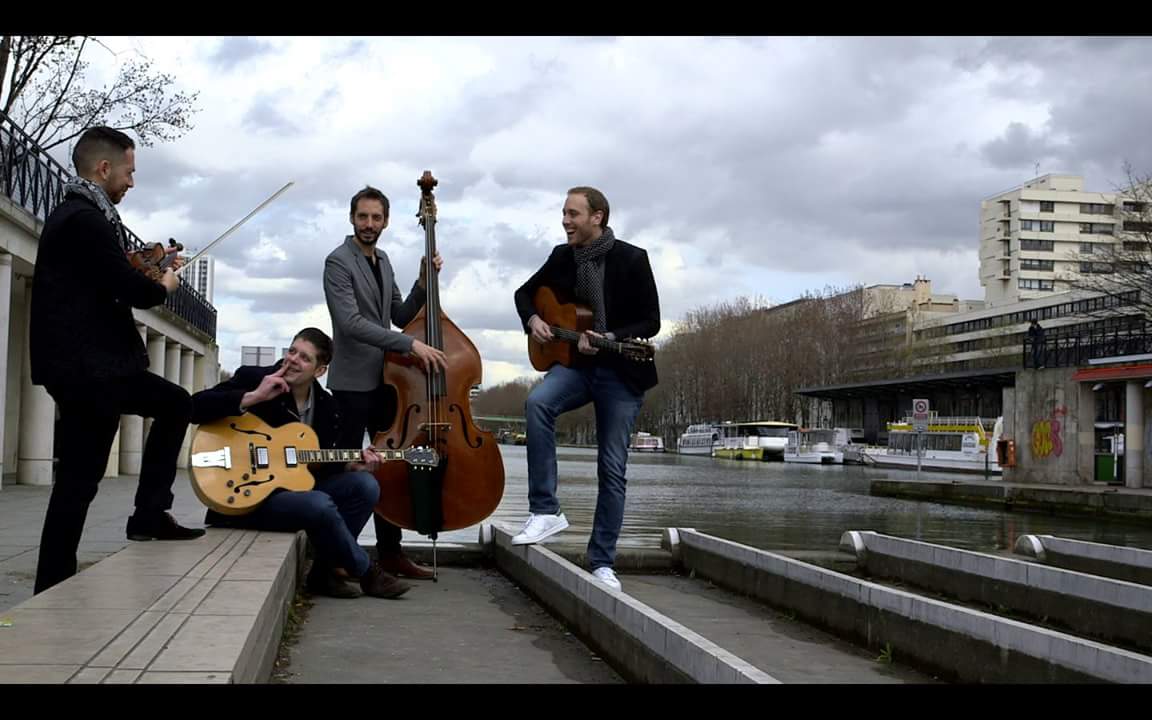 7 – What do you consider to be the most important practice exercises one should always use? Do you rely on a specific progression of exercises?
I wish I could say that I'm that organized and that I wake up at 7:30am every morning and play diminished scales while I'm taking a shower but I really don't have too many practice exercises.
I usually will warm up before playing with friends (chromatic runs, soloing over a few songs, etc…) and then before concerts I just rehearse the material that we'll play that night. So basically playing through songs is more of my practice.
8 – What are you favourite instructional books and resources for self-taught musicians? Do you feel like these methods can overcome the lack of a good local supportive community of musicians?
YouTube is the most incredible source imaginable. It still blows my mind when someone messages me from the US asking me if I saw a concert nearby my apartment in Paris. They have seen the entire concert through YouTube videos and I have no idea what they're talking about.
Also I think Denis Chang is doing the Lord's work – Amen Django! – with DC music school. The recently remastered hot club de France release by Label Ouest is a great tool since all of the hot club recordings are in tune meaning we can simply along with it.
I use amazing slow downer and go over Django's lines all day, every day, with these tools.
9 – What are your key principles for better and most consistent musical results for lead and for rhythm players?
To always listen to the rest of the band. If a band sounds killer but the rhythm guitar sounds a little off, it's ok. If the rhythm player sounds beautiful (like tears in your eyes beautiful) but the band sounds horrible, well then that's a big problem.
Make sure everyone is respecting and following each other, and not only thinking of themselves (which is more common than most would think).
Keep the energy of the music in mind too. The main reason all of those old hot club recordings are so magical is because of the amount of energy they were able to build up to. They could make even an old fashioned tune like "Lady Be Good" just rock your socks off. The lead players would really have an arc of energy and ramp things amp and the rhythm would of course follow them.
10 – What do you find to be the biggest misuse or waste of time in practice, rehearsal and studio sessions? What about the biggest or most common mistake from novice and expert musicians?
Focusing on minute details such as exact chord shapes or exact melodies rather than focusing more of energy and song development.
I get students all the time that stress so much about playing a melody EXACTLY how it's written or how Django played it. What's more important is the feeling behind it.
I also feel that producing a nice tone is often overlooked. The gypsy jazz guitar can be one of the most abrasive sounding instruments out there so extra care really needs to be taken to make it sound pleasurable to the ear, which is totally possible! I swear!
11 – How important was your participation in Django In June Festival in your development and establishment as a Gypsy Jazz musician? How did it work and where is it leading you?
For the past few years I've been quite lucky to be part of the Django In June Festival and I still consider it to be the best gypsy jazz festival/camp out there. It allowed me to trade ideas with so many people and just get to hang out with incredible musicians from all over North America and Europe.
Also when I moved to Paris, it was great to bump into familiar faces that I already saw at Django in June. I've gotten to interview and play with lots of killer musicians here in Paris due to the festival. In my mind it really brings everyone together all over the world.

12 – You're teaming up with Christiaan van Hemert in one of the most interesting online dialogues around. How did you build on this idea, how do you select your topics and what more do you guys have in store for us?
Christiaan and I are addicted to Internet videos and we always wondered about how cool it would be if we mixed commentary with live gypsy jazz playing. We saw commentators break down sporting events, gaming events, etc… and thought how helpful it would be to jump into the head of some of the best players in gypsy jazz to see what they're thinking.
Now it's developed more into an interview format where we get to learn about who these players really are and how they look at not just this lick or that specific lick but the music in general.
13 – How does a regular day in your life looks like? Tell us about your routines.
I don't really have a typical day but when I'm not on tour and in Paris then I wake up early and grab a coffee outside at my local brasserie and, sometimes, if I'm feeling like a slob then a buttery pain au chocolat.
Then I'm back home and possibly teaching a couple of guitar students during the day. Then I might have an English student or two. Then the rest of the time is devoted to working on my own band's material and concert planning or arranging gigs.
Then, in the evening, I'm out about with friends, playing concerts, or going to jams. There's never a shortage of things going on at night in Paris, that's for sure.
14 – How do you balance work and rest? How long are your working sessions and pauses?
They aren't balanced that well at all actually 🙂
I have moments where I'm working every minute of the day and then moments where I'm not working a lot. It's always difficult to adjust to both but so far it's been working out.
The less busy times give me a much-needed break from the crazy-run-here-run-there times.
15 – How do you prepare for an important concert or studio recording? What would be your practice regime a week before the gig? What about on the day of the gig?
I'll usually play the songs of the set list, not just on my own or with the group I'll be playing with but also with other musicians, to get as comfortable with the material in as many different settings as possible.
If it's my band "Cat-A-Strophe!" I have to work on the arrangements since they can be a bit particular and I also work on the concert presentation.
When I go on tour or play a really big concert then usually a week before I try to spend just a little time, but each day and consistently, on the set list. I prefer 10 or 20 minutes every day for 6 days then 2 days of 18 hours!
16 – What do you value the most in the music and musicians you love to listen? What are the key ingredients that catch your ear?
Energy, Energy, and ……..? Oh yeah, Energy! I love it when this music is played so energetically that you can just feel the swing coming right out of the record and straight into your face.
Also a good rhythm section stands out to me and really hooks me in. That swinging accompaniment, if it's good enough, could let me listen to my cat play the lead guitar for all I care.
17 – As playing the rhythm guitarist part what do you think is the most important aspect of its role? How does your posture need to change to be a great accompanist or a great soloist?
The rhythm players' most important job is to match the dynamics and energy of the soloist. Of course it's also to keep time, but that goes without saying!
One thing that always bugs me is when I see a soloist really go out there and try to take the energy level through the roof and the rhythm section just stays flat so the soloist sounds really out of place when they play really high or loud.
And to always play at an appropriate volume. If the soloist has to smash the strings with a hammer just to be heard clearly then the rhythm section is not doing it's job!
18 – Do you meditate or use any technique for focus, clarity and balance?
The closest things I have to meditation is taking a long metro or train ride. Usually I just think to myself the entire trip about what's going on during the week. This is something I didn't do before while living in LA and driving everywhere.
Trains really give me a nice reflection time to actually stop and think about everything that's flying past.
19 – What would you consider to be the most important advice, quote or reference someone ever gave to you?
To always look like you know what you're doing in front of the audience and not to noodle around on stage. They're very unconscious and common things for beginners but they have such a strong impression on the audience (especially if they paid for tickets!).
20 – Django had left hand crippled fingers. Pianist Horace Parlan had right hand disability. And Keith Jarrett had unusual small hands for playing the piano. Despite poorly built for their instruments they all succeed. How can one transform limitations in advantages?
Find a place where the limitation won't affect you anymore. I always thought if I had a problem with my wrists then I could take up playing a horn. Or if got my hand stuck in a blender, then I'd really have to take up singing. Or if my vocal cords burnt out then I'd just have to stick to playing Django, phew!
21 – Gypsy Jazz guitar technique is well known for being physically demanding. Do you know cases of unorthodox or ungifted musicians that made proper technique seem irrelevant?
Rory Hoffman is a massive inspiration to me. He just dumped all technique out of the window and his playing is unlike any other because of it.
22 – What would you like to be acknowledged for? What's the most important aspect of your life's journey that you'd like people to remember?
I've been trying to do something new with Jazz Manouche and expand it outwards but while still being very faithful to the style.
I'd also like to be remembered for that one time that I ate two kebabs in a row and didn't die.
23 – What would you say to Django if you had the chance to meet him? What would be the record, the musician and the song you'd mention to him?
If I could meet Django I would shove a video camera in his face and try to film him playing as much as possible. Like make a reality TV show following him. It's such a shame that there's a huge shortage of video footage. Nothing an MTV reality TV show can't fix!