Starting at a very young age, getting recognition from his pairs and being an awarded musician is always both surprising and worth to talk about.
A bit of an introvert, this young man overflows his musical talent into Classical music as well as into the Gypsy Swing. What's your secret Antoine?
1 – What have inspired you to start playing music? Tell us about your influences and what was going on around you at the time.
In my family we always listened to Django's music, Francis-Alfred Moerman, Angelo Debarre, Bratsch, etc. One day my father asked me if I wanted to start playing guitar. So we started learning together… Since this moment we played together until about 2014.
2 – When you started learning Guitar with your father, who was your mentor, how did you learned the music?
We learned a lot with Mandino Reinhardt and we did a large number of his Master class. Although in other way, we also learned a lot from Francis-Alfred Moerman. We recorded my first CD exclusively with his compositions.
3 – Did you started with Classical, Jazz or both at the same time?
I started Manouche style at 6 years old but I only started classic five years ago.
4 – What were the biggest challenges you have faced in order to progress in your practice, performance and musical career?
The biggest challenges were big concerts like Samois (in 2011) or the one for the Homage to Francis-Alfred Moerman. Other big challenge was the classical guitar competition this year (I won!) that really pushed me to work with a lot of accuracy over a few tunes.
Each new project or event is a sort of challenge. Like now I am working with the Flamenco guitarist Samuelito. We have a duet that mix gypsy and flamenca guitars, that very new and challenging. And for example, Classical guitar competitions are also very challenging. That really pushed you to work with a lot of accuracy over a few tunes.
5 – What it was like winning the Montigny Classical Guitar Contest?
Very encouraging !!
6 – About the Classical Guitar contests, how much does that changes your habits, what influence it take on your mental focus and your stress management?
Actually, It doesn't change my habits a lot. I just have to work a little longer each day when the date of the contest is getting closer.
7 – Do you remember your practice process when you started playing? How much did it change through the years?
Honestly, I don't remember, but I know that my way to work changed a lot after I started playing classical guitar. It is a very different (but also very good) approach to the practice process.
8 – What similarities and differences do you find in the process of practicing and playing Jazz and Classical Guitar?
What I like is that both jazz and classic help each other. What I mean is that one prevents me from being bored by the other. They are very different languages and that's very interesting to learn from both at the same time. You don't really find Jazz like improvisation in Classical music, for example, and so I can't work on jazz like I work on classic.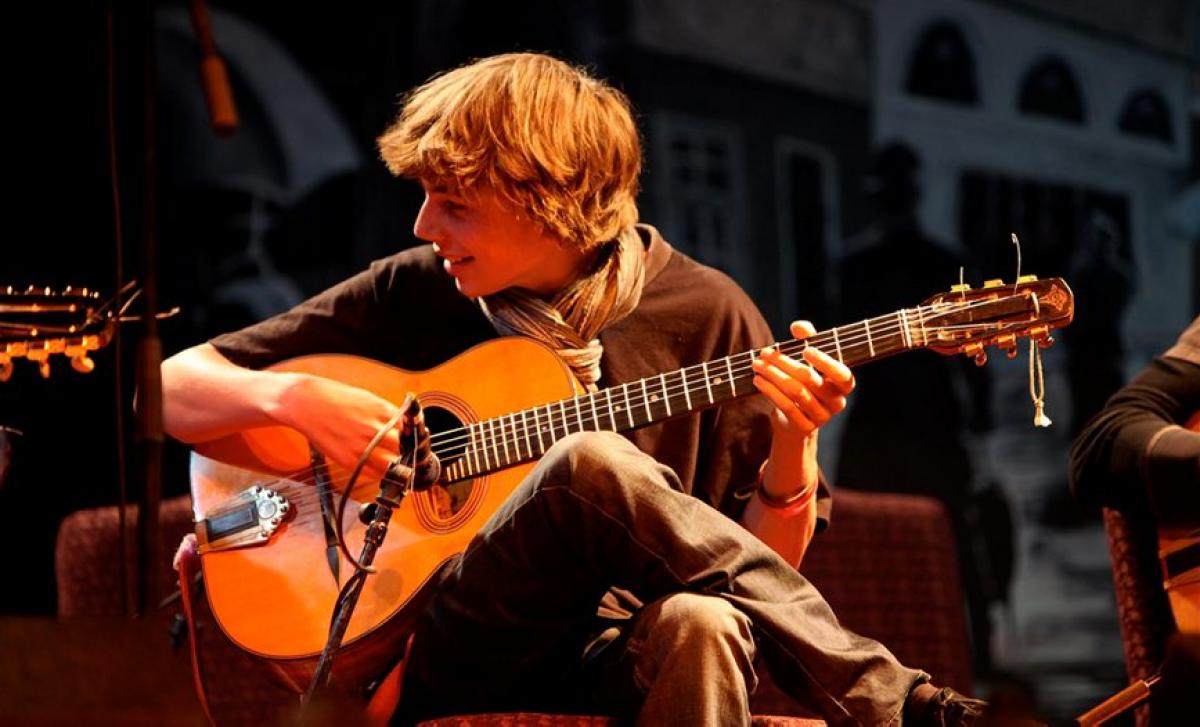 9 – Tell us about your routines. How does a regular day in your life looks like?
Since I have to work both jazz and classical guitar, I dedicate a few hours a day for each subject. I usually work around one hour, then take a break, resume another hour, and so on.
10 – Do you consider yourself to be more at ease on a contest or on a jam session/local concert?
These are completely different! The contest tends to be a little bit more stressful because you play alone… In jazz I usually play with other musicians, so it feels very different.
11 – What do you value the most in the musicians you love to listen?
What I value the most, I think, is what we can feel when we hear a musician. I'm driven by their musicality! But it is difficult to say… there is no specific rule.
12 – Do you meditate, practice your focus or cherish a clear state of mind?
Yes… more or less. I try to do things in a simple way but the best way I can.
13 – What does it feels like to have the opportunity to play with some of the greatest Manouche musicians (Stochelo Rosenberg, Robin Nolan, Adrien Moignard, Paulus Schafer)? Tell us about those experiences.
It is very nice of course! Each time you get the chance to be around these guys you receive something different. It makes me learn a lot.
Let me give you an example. I've worked with Philip Catherine for 3 concerts. I had to work a lot because his musical universe is completely different from what I knew (it is not Manouche at all), and so I've grown a lot!
And Stochelo, for instance, I met him the first time in Seattle. He is such a very, very nice guy!
14 – Do you remember any specific advice these guys gave to you?
I have received a lot of small important hints or advise from a lot of different people, and that builds my way to see and understand the music I listen or play.
15 – What would you like to be acknowledged for? What's the most important aspect of your life's journey that you'd like people to remember?
I usually don't think about this aspect. I simply try to do the best I can, in different styles of the guitar. Then we'll see what happens!
16 – What would you say to Django if you had the chance to meet him? What would be the record, the musician or the song that you would always refer in a conversation to Django?
To meet Django?! That would be awesome… I think I would just stay put without talking. It would be better for me to just listen to him! But I would refer to him a lot of very good musicians. It's hard to know which one to choose, but I really love a lot of musicians in different kinds of music: classical, jazz, flamenco, balkan, african, and so on.