Guitarist, composer, bandleader and singer Romain Vuillemin is one of the most versatile and busy Gypsy Jazz musicians around. In this interview we get a chance to know him and his projects from the musician's point of view and, most of all, from his human side who ears the universal characteristics of sound. Music is the best gift a musician can offer to the people, don't you agree Romain? 
1 – What have inspired you to start playing music? Tell us about your influences and what was going on around you at the time.
I started playing when I was 11 or 12. I was a big Iron Maiden fan, and rock in general. I discovered Jazz way after that despite my parents sometimes listen to some jazz big band music.
My parents are not musicians but I have a cousin who played the guitar, mainly rock blues stuff… One of my neighbors also played some electric guitar and my brother was also an amateur funk rock drummer. Automatically I ended at my neighbor's door telling him "man, show me how to play some nirvana stuff".
It was really basic but I started this way. I bought a cheap electric guitar and amp, and my parents took me to the town's music clinic. I spent a week playing with other kids. One morning the guitar teacher shows a pop tune to every guitar player. The drums students also learn it with their teachers, and so on.
In the afternoon bands were put together and we were given a room to practice the song… Only two minutes have passed by after the supervisors got out of the room and we were already playing some Nirvana and Smashing Pumpkins stuff!
We ended up originating a metal band with these kids for a few months. I guess I was 13 at the time.
2 – What are your current projects?
Currently I'm working on my own Django project, the "Romain Vuillemin Quartet". We've just released the album "Swinging in Paris" were we are paying tribute to Django's music, mainly his prewar period.
We focused this album on playing slower tempos than what is commonly played in modern's gypsy jazz scene. Django played a lot for dancers and these guys used to dance medium to up tempo tunes, which are confortable to dance along.
Guillaume Singer is on violin, Stephan Nguyen on the rhythm guitar and Jérémie Arranger on doublebass. We've also invited Sylvain Hamel on one track on the clarinet, and I'm also singing one song.
I really like Guillaume's playing because we inspire each other. We're huge fans of the Django/Grappelli period, so we are aiming for spontaneous solos, without much attention to technique, putting musicality first… but it's a tricky exercise.
I'm also a huge fan of the big band era, and have the incredible chance to work with the Umlaut Big Band, were 14 musicians pay tribute to the prewar European Big Bands (mainly 1928 to 1940). The album "Euro Swing" was also released this year.
All the guys are fantastic players. They are more into modern and experimental music, but all decided to form a big band to party, and it sounds great!!! We did a concert with them in a church in Paris, and we've decided to extend the number of musician to 38 (with strings, percussions, singers, etc.) and play the repertoire of the 50's.
We've called it for the occasion the "Umlywood Big Band". We were supposed to play only this gig, but the experience was so cool that we're hoping we'll do more!! Also I sang two songs. Believe me, singing in a 38 piece band is such a pleasure.
We're also working on some kind of Nat King Cole trio project for which we don't have a band name yet with my friend Edouard Pennes and the drummer from the big band Antonin Gerbal. It all started as a way to practice other repertoire and other instruments.
Edouard and I are guitar players, and Antonin is a drummer, but in that project Edouard and I play double bass, guitar and also sing, while Antonin is either on drums or piano (mainly piano). This way the same 3 guys can form several different trios: Edouard on bass, Antonin on piano and me singing and playing the guitar and play some Nat Cole trio tunes; or sometimes Edouard could be on guitar, me on bass and Antonin on drums and play some Wes Montgomery stuff.
I'm also playing rhythm guitar in Ritary Gaguenetti Trio. He is a Gypsy from Jura (East of France) who played mainly some Rosenberg music at the beginning then he went more into some electric guitar learning a lot from George Benson's albums.
We're also working on some stuff with Swedish guitarist Gustav Lundgren for a tour in Spain. He invited me to play Stockholm Jazz Fest with him last year. We've enjoyed the gig, he's often in Spain, as I am, so we'll be working on it!
3 – Gypsy Jazz has had a huge international growth all over the world in the last years. How do you see this evolution, considering you are from Paris, the heart of it all?
Arguably, Gypsy Jazz has grown a lot but I think the "big moment" really happened after Biréli Lagrene's "Gypsy Project" in 2002 up to 2007.
Although Paris is still the spiritual center of this style you can now feel it came back to a more aficionado kind of music. It's great to live here because Paris is where a lot of great players live.
Here you get the chance to get your ass kicked every evening in jam sessions, so you have got to go home to practice. When you're the best in town you don't have the same motivation to practice your instrument.
The interesting thing is that when you're in Paris you always see some guys coming from the other side of the world spending all their savings trying to learn as much as possible. They take lessons, go to every jam session and gigs. I guess that if I were a bebop guitar player I would do the same: Travel back to its roots and go to New York.
4 – Can you identify what key elements motivate you to practicing guitar? 
I would say that taking a good cup of coffee right after waking up and listening to some good music you would normally feel the need to play.
But it doesn't always work that way. That's why playing with better musicians always challenges you and gives you greater motivation. You will remember that you were quite bad in the past, and you will try to be better for next week's jam session.
5 – What were the biggest challenges you have faced in order to progress in your practice, performance and musical career?
In my practice, getting my ass kicked at jam sessions was a great challenge to overcome.
About the musical career, recording your own album can be a challenge. You have to manage the repertoire and arrangements. Then you have to manage rehearsals, studio sessions, and even some conflicts inside the band.
On top of that there's this crazy process called "finding gigs". It can be pretty challenging to balance the organizers low pay with the band members complain about not enough paid… And if you're the bandleader, you're stuck right in the middle.
6 – You're one of the few guys around that play Gypsy Jazz and also sing! Tell us more about that.
Singing is not my main thing. Although my singing it's not at the same level as my guitar playing I enjoyed it very much, for the music, and the audience also enjoys it, I guess.
Singing gives another atmosphere to a Manouche gig. The voice will automatically touch people. It's such a strong instrument. And it affects the playing of the other guys in the band. I think every chorus that follows a singing melody will automatically aim to be less virtuosic and more musical, and in some way more universal.
I think it's good to sing maybe 2 or 3 songs in a gypsy jazz concert but I wouldn't consider doing an entire gig around singing songs.
7 – Do you remember your practice process when you started playing? How much did it change through the years?
My practice started when I was playing Rock, Pop and Blues. Back then I just grabbed a guitar and played a bit at home or with some friends.
Then I discovered Django Reinhardt and decided I wanted to play that style. I was 18 years old and I realized that I had to practice a lot. That's when I started working properly: arpeggios, chord shapes, hear training, transposing, harmonic substitutions, etc.
Along those years I understood that one of the most important things to practice is time. Nowadays I'm focusing my practice on the rhythmic aspect of the music…
8 – Tell us about your routines. How does a regular day in your life looks like?
After 7 or 8 hours sleep, I wake up, drink a gigantic cup of black coffee, listen to some music or watch some players on YouTube to get my motivation flowing.
Afterwards I grab the guitar, play 1 or 2 hours in the morning, stop for lunch break, and in the afternoon I either teach my guitar students, or I call a friend to come play home.
I guess you won't play the same way alone in your apartment then in a jam situation with some people. That's why it's better to be able to do both.
At night, either I have a gig, or try to find out where my friends are playing and I go see them, or I find a jam.
9 – How do you balance work and rest? How long are your working sessions and pauses?
I know that I can't keep my concentration too long, so I try to play a bit every day. This works best for me instead of playing 8 hours a day during the week and nothing during holidays and weekends.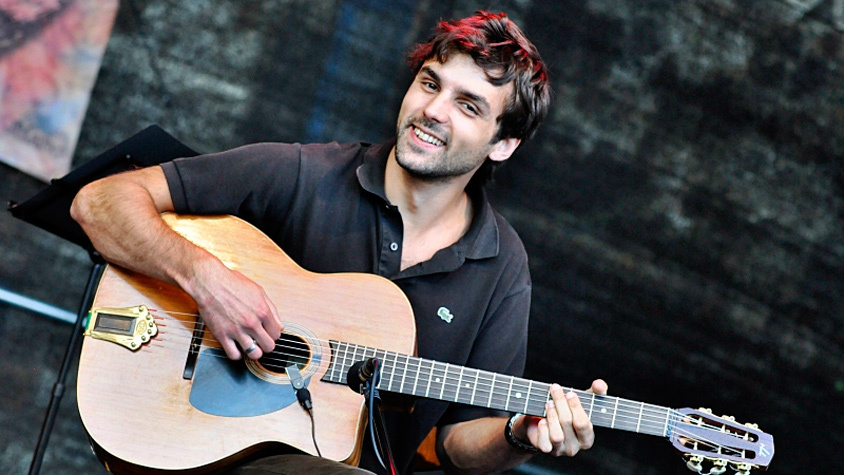 10 – What are your future plans and goals?
My goals are trying to find some nice gigs with my 4tet. I officialized it with an album because the music I hear in my head is a 4tet. The thing is that a lot of places in Paris only book duets, or trios, so it's a way to play less gigs, but to offer more quality music when we play them.
Regarding my future plans, I'd like to work more on the band with Edouard. It's a tricky exercise, and I'm really in love with the American Swing music.
11 – There's a lot of different ways to play Manouche, and your sound, playing and projects seem to be different in style, concept and approach. What makes it so special? New compositions, arrangements, attitude, the community, other aspects?
I've started playing this style listening to Django and Tchavolo Schmitt. Later I've got more into the Rosenberg playing to gain a bit of technique. Finally I've listened to Biréli's playing because he's got a fantastic time, sound and great harmonic ideas.
I've also listened to a lot of Chet Baker and Louis Armstrong and I was amazed to see that they manage to play greats solos with fewer notes, whereas sometimes in gypsy jazz there's A LOOOOT of notes.
I try to keep the sound of the guitar that I like from the guitar players I've mentioned and, at the same time, play nice and easy melodies who could reach everybody, not only guitar players.
Well that's my objective. I guess I'll be able to do it in a few centuries if I practice enough! 🙂
12 – What do you value the most in the music/musicians you love to listen? What key ingredients you love to hear when listening to some new album, musician or student?
I like to value the universality of their music. I ask myself "does this reach me as a guitar player (because what the guy is playing is really complicated), or does it reach me because it's simply beautiful and everybody would like?"
I got to admit that sometimes I also value a machine like musician, with great technique, time, harmony, etc. But that's because I'm a musician. I'm amazed at Jacob Collier's videos on YouTube cause he's incredible, but maybe I wouldn't have watched them twice if I were not a musician.
13 – Do you meditate?
Actually I don't meditate. I'm not that kind of person. I'm more the opposite, an hyperactive guy who's afraid to do nothing during 5 minutes. But I should try someday, because I know that music is way better when the player is really relaxed.
14 – What would you consider to be the most important advice someone gave to you? 
"Ne te reposes pas sur tes lauriers"
This is a French expression that means that you may be OK because you've practiced a bit and some people play worst than you, but there's always some guys who will come and be better than you, so don't ever stop practicing.
I guess I would prefer being the bad player among the good ones than the contrary.
15 – What would you say to Django if you had the chance to meet him? What would be the record, the musician or the song that you would always refer in a conversation with Django?
Wooow, if I could meet Django I think I wouldn't even be able to say a word to him. I would just beg him to take the guitar and start playing.
But if I managed to talk music with him I suppose I would ask him how he felt when he heard Louis Armstrong, what did he liked in his playing, if he liked Armstrong's singing etc.
I think Louis must have influenced Django since they both have this magic "easy, relaxed, beautiful and universal" core in their music.