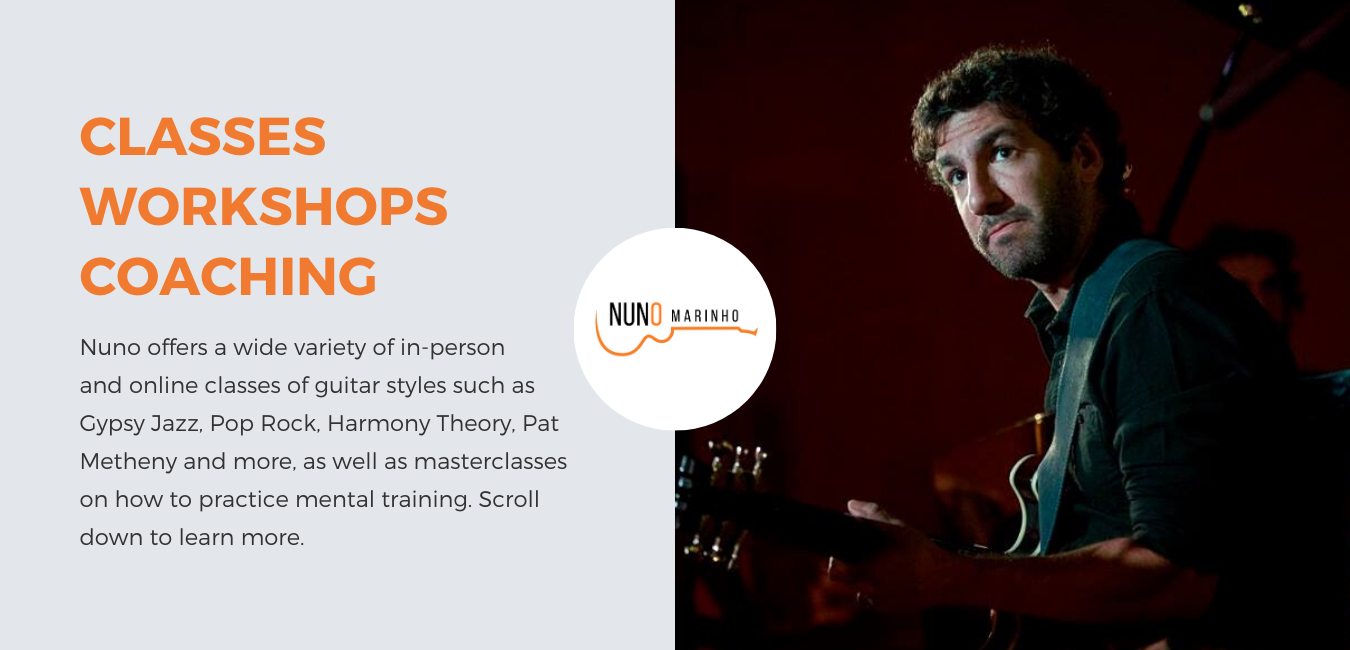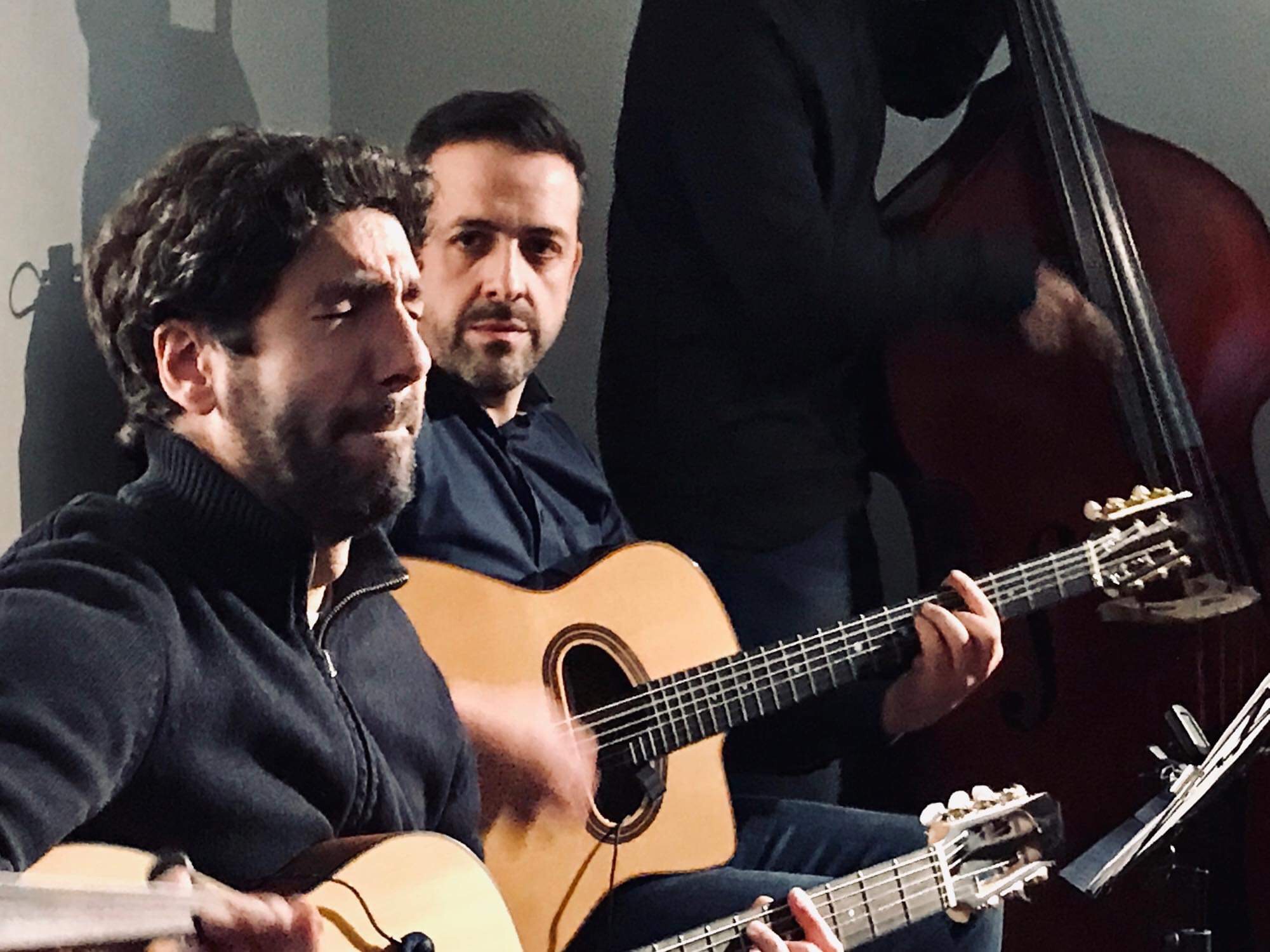 What you will get:
A proven method for better learning, practising and performing
Melodic interpretation and variation
Comping, accents and dynamics
Soloing, improvising and creating new licks and creative ideas
Building a repertoire
Understanding your idols idiosyncrasies
Developing your personal phrasing and sound
Surpass lack of motivation, procrastination or a feeling of stagnancy
How to play with other musicians
Participate in jam sessions and meet likewise people to play with
     All Classes are advised to:
Gypsy Jazz, Swing, Bossa Nova, Blues, Funk and Jazz lovers
Instrumentalist and Singers looking for the proper tools to progress
Jazz Harmony and Theory enthusiasts
Students looking for a professional pedagogue to steer your progress
Adults who want to be a part of a community
Everyone who wants to play with other musicians
Guitar lovers who want another chance on using their Guitar Collection
People looking for how to learn better and faster
     Classes are NOT advised to:
Internet tourists looking for every kind of free material online
Death Metal fans and head bangers!
Parents who would like their kids to learn any instrument
Prejudiced musicians and jazz purists
Gypsy Jazz
Learn to play Django Reinhardt's music. Develop your comping technique with La Pompe, play Licks or Solos from the Master, and create your own style of playing this genre.
Furthermore, you can develop your playing learning the style and phrasing of Bireli Lagrene, Stochelo Rosenberg, Adrien Moignard, Andreas Oberg, Gonzalo Bergara, Robin Nolan and others.
What You Will Learn
Beginners
La Pompe

Right Hand Comping

Swing, Bossa and Bolero Comping

Chords, Voicings and Inversions

Manouche and Sinti Fingerings

Scales and Arpeggios

The Repertoire

 
Intermediate/Advanced
Solos & Licks from the Masters

Building Speed

Dynamics

Improvisation

How to develop Creative Ideas

Picking Patterns

Rest Stroke

Down Up Down, Double Down

Comping Accents & Tremolando

Chord Progressions

Diatonic and Tritonic Substitutions

Super Imposed Harmonies
Pop, Rock & Beyond
If you're looking to learn some Pop Rock songs, or Reggae, Ska, Funk and the like, I have the perfect method for you. The Music Book "Rhythm Guitar Fundamentals – Vol 1" has +120 songs from a variety of genres. You'll be challenged to build your repertoire by increasing the difficulty level of the rhythmic patterns, and being stimulated to try improvising over the progressions or learn the original solo
What You Will Learn
Stevie Ray Vaughn

Pink Floyd

Queen

Jason Mraz

Jamiroquai

Audio Slave

Nirvana

Guns N' Roses

Jeff Buckley

Adele

Maroon 5

James

Extreme

James Morison

Beatles

Pearl Jam

Cesária Évora

Bob Marley

and many more…
Harmony & Theory
Visual and aural understanding of songs opens harmonic and melodic possibilities for improvising Jazz. Using Standards progressions build creative and unexpected options for rhythm playing and soloing.
What You Will Learn
Analysis of chord progressions

Relationship between chords

Tension and Resolution

II V I (major and minor)

Melody Chords

Walking Bass

Comping

Developing Harmonic Concepts

Generating New Ideas

Diatonic Substitutions

Tritonic substitutions

Harmonization for Rhythm Guitar

Using Harmonization on Solos

Superimposed Harmonies

Playing Outside the Chord Changes
Pat Metheny
After several years playing Pat Metheny's music and transcribing his Solos, the Tribute Band for the "PM Group" and "PM Trio" were born in the year 2013. If you'd like to play Metheny's songs, solos or improvise like Pat, you've come to the right place
Discography
Some of the songs covered through the years include Bright Size Life, James, So May It Secretly Begin, Last Train Home, Spring Ain't Here, Travels, Lone Jack, Phase Dance, Goodbye, Last Train Home, Song For Bilbao, And Then I Knew, Are You Going With Me and many others
What You Will Learn
Melodic Phrasing

Rhythmic feel

Articulation

Technique

Double Picking

Playing Thirds

Open Triads

Harmonic Concepts

Composing like Pat

Analysis of the Repertoire

Repertoire (from different phases)

Sound and Timbre

Side Stepping

Idiomatic Licks and Solos

PM Trio Repertoire

PM Group Repertoire

Development through the years

Pedals and Effects

Improvising in the style of PM
"I started weekly guitar lessons with Nuno about a year ago and I recommend him without hesitation!
Besides being an amazing musician, he is an excellent guitar teacher, with whom I learn the theory and improve my technique. 5 stars!"
"I was looking for a Jazz Guitar teacher in Lisbon and some people advised me to call Nuno. What a good choice I made.
Nuno is an excellent musician and a very good person. He makes me improve at my own pace, thoroughly and patiently explaining me the music and the theory. I really progressed a lot with him.
He's always in a good mood and has lots of advices to improve. He is never late and he is reachable to talk outside classes. I am very happy to meet Nuno and to start building a friendship with him. My advice, just contact him blindly and take care of him because you wont find such a good teacher."
"Nuno Marinho is an experienced and well known teacher, a natural leader who shares his knowledge with his peers and students.
Also, he is one of the most innovative pedagogues in musical teaching methods. He has a pro active roll in developing workshops and maximizing performance."