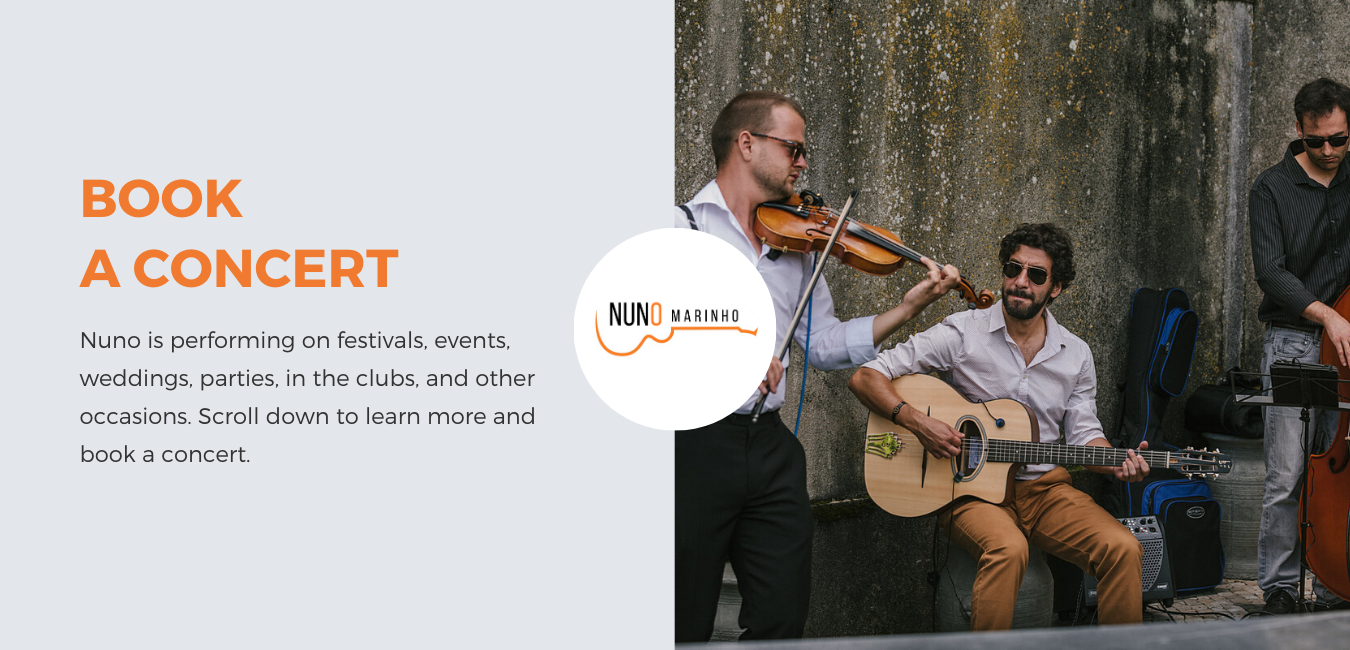 Gypsy Jazz
The Swing Era: Paris in the 1930's
The Trio "Manouchka" is the most acclaimed band for playing Django Reinhardt's music in Portugal and the most international, too. Ideal for your classy glamorous events. Perfect for Lindy Hop and Balboa dancers.
I've been playing with Gypsy Jazz musicians in Portugal, New York, Paris, London, Amsterdam, and India. Since 2014 I have dedicated myself to promoting Gypsy Jazz in Portugal and motivating friends to play the genre and start new projects.
In 2015 I invited Paulus Schafer Trio to perform at Seixal Jazz Festival. Since then I've been publishing interviews, articles and album reviews, while hosting and playing with the best International musicians.
It's my passion to contribute to the growth of the this community in Portugal through Club Concerts,  Jam Sessions, Street Music and Django's Festivals around the world.
Jazz Funk
For Groovy Jazz with Funk/Rock influences, this Guitar-Bass-Drums Trio creates the best vibe for your Festival, Club or Private Event.
We cover the repertoire of great Jazz performers, including John Scofield, Miles Davis, Cole Porter, Mike Stern, Joshua Redman and more.
Original songs from the Albums "DNA" and "Letting Go… The World Of Make Believe" are also in the mix.
Blues & Bossas
If you're into Jazz Standards, Bossa Nova and a Bluesy feel, you can choose from a Solo performance to a Duo, Trio or Quartet with Doublebass, Violin, Accordion, Piano, Singers or other instruments you have in mind.
Listen to your favorite songs from Tom Jobim, Gilberto Gil, Cole Porter, Ella Fitzgerald, Wes Montgomery, Billy Holiday, Joe Pass, Charlie Parker. It's the perfect combination of vintage and glamorous background music for a smooth and relaxing party, wedding or other private events.
Pat Metheny Tribute
After several years playing and transcribing Pat Metheny's music, in 2013 the GROUP and TRIO Tribute Band were born.
For Pat Metheny's fans, now you can hear your favorite songs, live at your own events. Enjoy Bright Size Life, James, So May It Secretly Begin, Last Train Home, Spring Ain't Here, Phase Dance, Last Train Home, Song For Bilbao, Are You Going With Me, and many others.