I must confess I found Remi's music almost by chance. Zapping through YouTube I've found this amazing version of one of my favorite standards – "There Will Never Be Another You" – where he plays a Carolan Guitar.
He's musical good taste is exquisite and his personality calm and gentle. I hope you'll enjoy Remi Harris insights as much as I liked pulling these interviews together for you 🙂 
1 – What have inspired you to start playing music? Tell us about your influences and what was going on around you at the time.
I started playing guitar when I was 7 though I had toy guitars before that. My Dad played and listened to a lot of guitar-based music so I grew up surrounded by the sights and sounds of guitar playing. My early influences were mainly 60s and 70s guitar based blues and rock music. Artists like Jimi Hendrix, Led Zeppelin, The Beatles, Eric Claption, Peter Green, Chuck Berry and many more.
2 – How come a British guitarist like you, with so many great Rock influences, started playing Manouche?
To me the guitar has always been about improvising, that's what I love about many of the early rock and blues bands that I grew up listening to. They were really jamming and interacting with each other in the moment.
Jazz appealed to me because it's all about improvisation, freedom and experimentation. It was a natural progression for me having just spent my teens playing in rock and blues jam bands.
Manouche was the route that appealed to me the most at the time because of its up beat, fun-filled nature. I also love the sound of gypsy jazz type guitars and they sound best with a Manouche style rhythm section (rhythm guitar and double bass).
 3 – What motivated you to never quit practicing?
For me the guitar was (and still is) my favorite toy. Practicing is something I really enjoy doing, I would have given it up years ago if it ever felt like a chore.
I feel that there is always something new to learn and explore.
4 – What were the biggest challenges you have faced in order to progress in your practice, performance and musical career?
The biggest challenge for me in my career, so far, was learning to speak on stage. I'm naturally quite shy but if you want to lead your own band you have to be able to engage with an audience, talk about the tunes your playing, maybe get a few laughs etc. Public speaking was one of my biggest fears growing up.
5 – What are the main differences and/or similarities you find in Manouche and Rock genres, regarding technique, sound and feel?
I guess gypsy jazz is a high energy/up tempo form of jazz and you could say rock'n'roll is a high energy/up tempo version of the blues so both genres are naturally up lifting in their nature.
I find the gypsy jazz line up very versatile. You can play blues, swing, bebop, bossa, funk/hip hop grooves, classical melodies, world music, pop tunes, even rock tunes in this format and it works. Nothing really sounds out-of-place so for me it gives me a lot of possibilities.
The technique involved in playing gypsy jazz guitars is different to how most people play other guitars though and can take some time getting used to it, depending on how you played in the first place. But not everyone uses the gypsy type technique and it's not essential. I know great Manouche style players who don't play with this technique.
6 – What was your practice process in the early days? Did it change through the years?
I just used to play everyday. I didn't have a specific process. If I liked something I would try and learn it. That was it. I have a bit more structure to my playing these days though, as now it's my profession I have to take it a bit more seriously.
7 – Tell us about your routines. How does a regular day in your life looks like?
On average I would say I play between 2 and 4 hours a day. This is divided up throughout the day into shorter sessions. I like to play for between 30 minutes and 1 hour before breakfast, then maybe another hour or two after breakfast. Then I go out, exercise, play football, do some admin work, etc., and come back to the guitar later in the day.
8 – How do you balance work and rest? How long are your working sessions and pauses?
My playing sessions can vary but average at about 30 minutes with breaks in between. It really can depend on what I'm working on though.
9 – What key ingredients you love to hear in the music you love?
I like musicians who have their own approach. I prefer to hear people doing things their own way with their own unique twists.
 10 – Do you meditate or perform any kind similar practice?
I used to meditate but found my guitar practice and exercise has a similar effect on me as meditation, so I haven't done it for a while.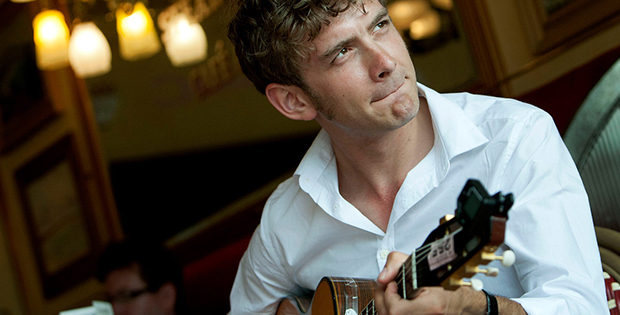 11 – What about the best advice, quote or reference you keep close to you?
Look after the music and the music will look after you.
12 –What's the most important aspect of your life's journey that you'd like people to remember?
I'd like to be remembered for always trying my hardest at everything I do.
13 – What would you say to Django if you had the chance to meet him?
I don't know what I'd say to him. Probably "Thank you".
14 – What would be the record, the musician or the song that you would always refer in a conversation to Django?
I don't know what record I would mention. I know he had a broad taste in music so I guess we could strike up a conversation about anything. I would like to see his reaction to the System Of A Down though. I have some friends who have tried some heavy metal type tunes in this genre. I think it can work. Anything is possible really.